Add some sparkle to your greeting card with spot uv gloss highlights on the front.

Clients will put these up in December, and they'll stay up until January two years later!

Choose copper, gold or silver foil highlights on the front for a glittery festive look.

Wallplanners have a whole year displayed at once. Choose from A3, large A2 or Super A1.

Digitally printed on 350gsm silk card and supplied pre-folded. From just 25 copies.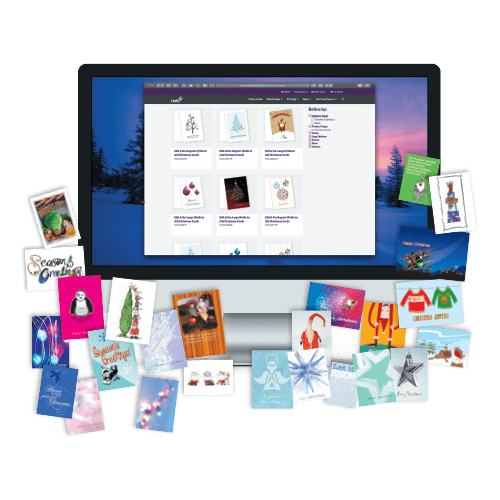 Do people still send Christmas Cards?

Of course they do! Granted, you probably got fewer Christmas Cards last year than in 1999. But think about one you did get. Did you open it and think "They shouldn't have bothered"?

Did you baubles.

You thought "ah, cute". Or "ha! that made me smile" or "oh yeh, I was meaning to get back in touch with them."

Upload your own artwork, ask us to design something on-brand, or choose a ready-made design. We have hundreds of designs available to personalise online.
Ding dong merrily on high, new festive treats we bringing…

Send a thoughtful, branded, gift to clients this Christmas. It will not only make them feel warm and fuzzy inside, it will also make it more likely that you'll be in the forefront of their mind in the New Year.

From USB's Mousemats, Mugs and Keyrings, we've got a sackful of branded gift ideas for you to choose from.

Discover our favourite ones below.